Email marketing is a great value.
Email marketing is still the best value for businesses large and small. Get product news and special offers to your customers for literally pennies. It is the easiest and the most inexpensive way to send out things like invitations and other special announcements. Less work, lower cost, and easily quantifiable results!
Get the best email marketing tools...
for a very competitive price with all the features you are looking for with Lassospace. Lassospace email marketing is offered as a stand alone service to add to your existing website or as an integral part of our web hosting packages. Your campaigns are sent from your domain* reflecting your branding and delivered by one of the most powerful email delivery systems in the world!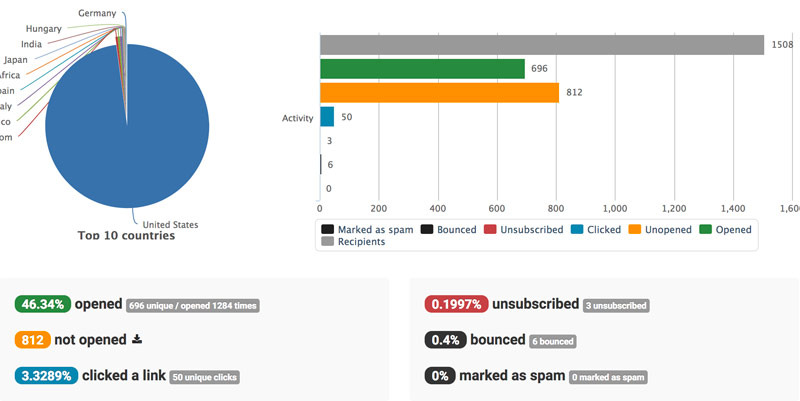 Each account includes complete reporting to allow you to see what is working and not working. Find out who is opening your emails and what they are clicking on. All this information will allow you to tailor and optimize your campaigns for maximum return.
Quit paying too much.
Lassospace offers several pricing plans. The best plan is free! Any Lassospace web hosting customer with a subscriber list up to 250 can send up to two campaigns a month at no charge. Web hosting clients with larger lists can use pay as you go, one of our pre-paid plans, or we can tailor a custom plan to suit unique needs..
Then we offer a simple $48 a year plan for sites hosted anywhere and lists under 1000 subscribers. This plan comes with 6,000 sends, help with designing and building email campaigns, and the ability to send additional emails at our inexpensive pay as you go rates. This is a great way to get started with email marketing at a low price of just $4 a month**.
Many of our clients with larger lists choose our pay as you go plan with a rate of only $0.70 per 100 subscribers. This offers them substantial savings over most other prepaid monthly subscription plans. It also means you do not have to pay a monthly fee if you do not send in a certain month.
* sending from your domain requires a few easy additions to your DNS records. Improves deliverability.
** a yearly $48 payment in advance.